Most readers have their guilty pleasure genre. One of my best friends has an obsession with romance novels, particularly historical romance with a Scottish flair. I like to make fun of her for her reading tastes, such as Devil in a Kilt.
I mean, look at this cover. AND THE BLURB.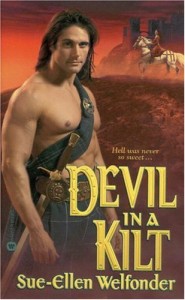 "Forbidding and proud, Duncan MacKenzie wanted only one thing from his new bride — to use her special gift to determine if young Robbie was truly his son. He never expected the MacDonnell lass to stubbornly follow her heart, chase away the darkness in his castle with light and laughter, and ignite a raging fire in his blood. How dare she defy him, and tempt a devil like him to feel what he feared most of all — love!"
HOW RIDICULOUS IS THAT?! Hahaha.
Of course, she doesn't think I should talk… because I read video game novels. She probably has a point

I think the first video game book I ever read was The Umbrella Conspiracy by S.D. Perry. It's been ages since I read it – over 10 years. I can't say how I'd feel about it if I were to read it again today, but I fell in love with it back then and I devoured it and many of the following Resident Evil tie-in novels.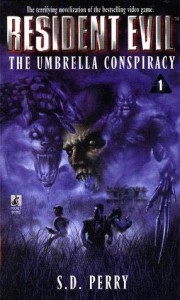 I thought the books would be terrible because they were video game novels – I mean, before I read any of them I considered video game novels to be on the same level as video games based on movies. All crap. (Except for the SNES version of The Lion King; that was awesome.) But hey, here was a series I enjoyed, so surely others may be the same!
Since then I've read a lot more than just those books, and branched out to other video game novels as well. I've read various books from the Diablo, Starcraft, and Warcraft universes, as well as one of the Dragon Age novels.
I think when you decide you want to read a video game novel,  you have to prepare yourself in a couple of ways. First, the book is not the game and never will be – the video game is going to start you off with a lot of expectations. I think these expectations are part of what makes a lot of tie-in novels seem bad. Toss 'em out! We usually aren't reading a video game tie-in book for the fantastic literature (and if you are, you should probably stop now, because you will never be happy). We're reading because we really enjoy the world that these games take place in and we want to learn more about them.
For that, video game novels are pretty great. I learned all about Arthas' past in Christie Golden's Arthas. I learned about Draenor and the taint that gave the orcs their bloodlust in Rise of the Horde. I got to read about Dragon Age's King Cailan's father in The Calling, and Jim Raynor's first search for Kerrigan to try to rescue her from the Zerg in Starcraft: Queen of Blades.
The coolest thing about the Starcraft novels was getting to see the inner monologue of the characters as they first came across the Zerg. I thought it really helped to drive just how alien and frightening the Zerg are, the feeling of futility when facing them, and what they are capable of. Obviously in the video game, they are the enemy, and lucky for you, you tend to be armed with pretty heavenly weaponry which can be used to blow the enemy away. But in the books, it isn't always a heavily armed marine ready to face down the alien invaders – sometimes it is just a member of a colony trapped on a planet with them, or a reporter. These books help to give us background that we might not have gotten in the video games, or they show us another character or part of the world that wasn't in the book.
One of the greatest weaknesses of some video game novels is things can seem forced. The plot doesn't flow naturally like it might seem to do in the video game that it comes from. Characters can sometimes feel like they have no personality or they are too perfect. (Rhonin in particular gets a lot of crap for being a "Mary Sue" or a "Marty Lou".) That's something that I am willing to just take with the rest. The main character in the Diablo books seemed about as cliché as they come, to me. Standard male character with past trauma and daddy issues. But the story was something I rather enjoyed, so I stuck with it even though I thought the character was completely uninteresting.
It's a little dangerous to go into a video game tie-in novel expecting the same brilliance that kept you playing the games. The books are not the games, and the games are not the books. (Just like after reading the book that spawned a popular movie, many times the movie may seem lacking.) But if it is more information you want, if you'd like to just get another tiny slice of that video game world, the novels work quite well.
Do you have any video game books you particular liked (or didn't like)? What were they? What were you glad to read about, or what were you disappointed was missing?