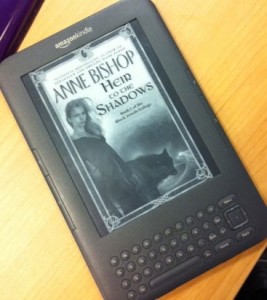 I recently went into my kindle and followed instructions to jailbreak and install custom screensavers on it. Pretty damn cool!
I spent the majority of my evening just finding high quality book covers, resizing them and making them greyscale, and loading them up into the screensaver folder. It was a lot of fun to have something like this that I could customize again.
I used to be crazy into customization back in high school, especially with my PC. I had custom windows start up and shutdown screens (which were just .bmp files as I recall, and of course given my obsession at the time were all Evangelion themed), special homemade desktop icons for everything, and of course a screensaver that would go through a folder of all of my anime screencaps.
At this point in my life I am not quite as gung ho about finding every little thing I can customize and doing it – I have so many other things going on I usually don't have the time. But customizing the Kindle screensaver was something I really wanted to do, and I was glad that it was so easy! The only hangup was that after copying my files onto the Kindle, it wasn't using them and just showed a blank white screen when it was asleep. After I restarted the Kindle though it started using all of them just fine!
Tonight I'm finally going to be seeing the HBO A Game of Thrones, which I'm really excited about since I just read the first book of A Song of Ice and Fire this past month. Will be interesting to see how the different characters are portrayed.