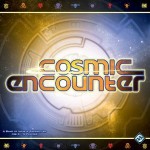 Cosmic Encounter is a game where you play one of many different alien races (there are a variety of races, you get a random choice of one of two of them). Each alien has a racial ability that in some way breaks the rules of the game. Because each alien race has a different ability, it means that nearly every time you play you'll get a different (but generally equally fun) experience.
The basic gist of it is that everyone is a different alien and we have five home planets each. Our goal is to get 5 different foreign colonies. (All five could be on one opponent's home worlds, as long as each colony is on a different home world.) We create colonies by landing any one of our ships on someone else's home world. Generally this means that some sort of fight is going to go down (which can result in a battle or in a negotiation depending on what cards you have). There are other cards that can get involved as well but they're not necessary to describe here.
Recently I played a particularly fun game. I was the Masochist. The Masochist alien race's special power is to have a second, alternative win condition: the Masochist wins the game if, at the beginning of any player's turn, the Masochist has lost all of its ships. Of course, they can also win normally, but why would you want to do that when you can have so much fun sabotaging yourself? I haven't the slightest idea.
I proceeded the way any Masochist would – by placing myself in harm's way at every possible opportunity. I was invited into alliances and always allied with the side that I hoped would lose. During my own attacks or defenses I either played a card that would cause both of us to lose immediately or I would play a Negotiate, and either fail to make a deal (if my opponent also played negotiate, in which case we'd both lose three ships) or get run over by my opponent when I played Negotiate and they played an Attack card. It was some of the most fun I've had playing Cosmic Encounter in ages, and that's saying a lot since I have a lot of fun every time I play.
I highly recommend giving it a try with at least two other friends, but it's best with larger numbers of groups because that means there are more aliens in the mix.
Some other interesting aliens…
Antimatter This alien makes it so when you reveal your attack cards, rather than the higher total winning as per normal, the lower total wins.
Loser The Loser's special power is that they may declare an upset – if they do, the loser of an encounter wins and the winner loses. It creates some really crazy games when both the Loser and Antimatter are in the same game.
Warpish The Warpish adds the number of ships in the Warp (where ships go when you lose battles) to their total when they attack or defend.