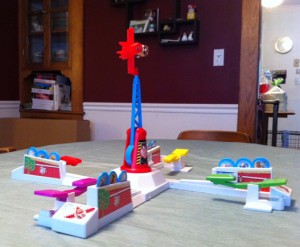 Loopin' Louie is an incredible dexterity game where you are one of 2-4 players trying to protect your chickens from Louie, a devious flying chicken thief. Your goal is to use your lever to knock Louie and his plane away from your chickens while having him steal your neighbor's chickens, until you are the last person at the table who still has chickens.
It's meant as a children's game but I think that's fairly shortsighted if someone avoids it because of that. It's definitely one of my favorite games and results in endless fun. We generally play by tournament rules which I believe means that every time one person wins a round, they reduce their maximum number of chickens by one. So if A, B, C, and D are playing and D wins the first round, D starts with two chicken tokens and everyone else fills up back to three, and so on. We also rotate the seating arrangements each round so that you don't always have the same person to your left, right, or in front of you.
How far you want to take Loopin' Louie is up to you, but I think my group of friends has decided. One of them left the following review at Board Game Geek:
I believe that this may be the apex of Western Civilization. It is the fundamental issue of our time to ponder – who is Louie? What does he want? Because if we look at ourselves, we see that we are Louie, and his struggle is our struggle.

I am only half joking.
Yeah.
This game is really fun, deceptively awesome, and I think everyone should give it a shot, whether you're a child or not. I haven't personally had any experience with the American version of the game – I hear it is larger than the German version and among my friends, the German version is the preferred one. So if you do pick it up I would recommend (based on their recommendation) that you try to pick up the German version!