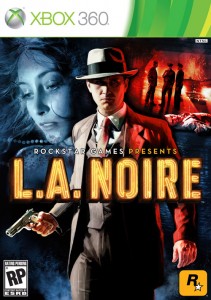 I just started playing L.A. Noire Tuesday night and I must say that it's pretty fun! I started off a bit skeptical because I've never enjoyed the Grand Theft Auto games that much, except to try to get as many stars as possible and get the army after me or something. However, I did love Red Dead Redemption (Game of the Year all years!) so I knew that Rockstar could pull it off. (Granted, I'd also like to attempt to play GTA again sometime and give it another shot, since I know that series must be popular for a reason other than breaking the law in as many ways as possible. Well, I hope!)
L.A. Noire is a fun detective game which, in the beginning at least, is separated neatly into different cases. Each story case is another chapter in the game which (so far) feels pretty stand-alone as far as the story goes. Your character goes up the ranks in the LAPD and solves cases but so far there doesn't seem to be a plot to tie the whole thing together. I'm still relatively early on in the game (I just completed my first case as a homicide detective), so it's very possible that might change.
Gameplay is enjoyable and feels like a mix of a bunch of different games. The driving around, well, it reminds me a lot of Grand Theft Auto except that I'm pretty sure you get in trouble if you just start shooting random civilians, and your score at the end of each mission is higher if you don't destroy every car you get into and run over traffic lights and street benches (not to mention people). Searching for clues reminds me a lot of Phoenix Wright (hey, what do you mean lawyers aren't the ones that do all the investigating?!) and so does interrogation, though unlike Phoenix Wright you can pick the wrong option when questioning witnesses (it just leads to getting less information than was possible if you had chosen the correct option).
The one thing L.A. Noire is missing from interrogations is "OBJECTION!" and "HOLD IT!" and "TAKE THAT!" but I think I'll manage without, for now.
So far I guess I can't really explain why I like to play this game and why I find it fun. I certainly am not as bound to it as I was when I first played Red Dead Redemption or Mass Effect 2. I'm not absolutely dying to play when I get home from work and I don't mind tearing myself away to do freelance work or something else. But there is still an undeniable enjoyment factor. I'm looking forward to solving more cases and seeing what happens… also crossing my fingers for an overarching plot to show up… any case now…